Spread out awareness with World No Tobacco Day greeting pictures and photos. Share Happy World No Tobacco Day images, World No Tobacco Day messages, World Tobacco Day posters and wallpapers with your family and friends to highlight the bad effects of tobacco. Share the best of World No Tobacco Day messages with images on Facebook, WhatsApp to wish everyone a tobacco free life.
" Let us have an environment free from smoke so that our coming generations can breathe free."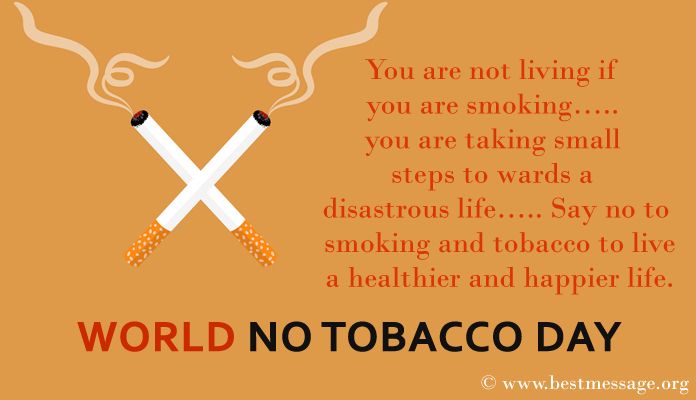 "You are not living if you are smoking….. you are taking small steps towards a disastrous life….. Say no to smoking and tobacco to live a healthier and happier life."
"You are not just saving yourself by saying no to tobacco, you are saving your family, you are saving Planet Earth….. Promise to give up on this habit on World No Tobacco Day!!!"
"The best and the only way to quit smoking is to just leave it….. no bargains, no terms and conditions…… Try it to believe it."
"Smoking kills…. Not just you but also people around you….. Smoking causes diseases…. To not just you but also to the ones who are always with you…. Say no to tobacco!!!"
This page was last modified on Wednesday, April 26, 2023
More World No Tobacco Day Messages, Slogans, Wishes and Quotes….
Few Lines on Anti Tobacco Day
World No Tobacco Day Whatsapp Status Messages
World No Tobacco Day Messages for School
Anti Tobacco Day Slogans for Students
Latest World no Tobacco Day Slogans
No Smoking Day Slogans in English
Great American Smokeout Messages
Funny Quit Smoking Quotes Messages
Quit Smoking Encouragement Messages
Powerful Anti-Smoking Messages
No Smoking Day Message to Schools
No Smoking Day Message to Employees
Inspiring Quotes to Quit Smoking
Inspirational No Smoking Day Messages