A Dentist is a person who keeps your teeth healthy and sparkling. He brings a sweet smile on your face and beautifies your smile. The National Dentist day is celebrated on March 6th every year. It's time we acknowledge the services rendered by our dentist and say a thank you to him with gratitude. This National Dentist day is also observed to spread the awareness of oral hygiene and dental care in India. Wish your Dentist with warm wishes and thank you messages to show your appreciation for him. Share the National Dentist's Day Messages, quotes, Dentist Slogans, Wishes and Dentist captions on Instagram, Facebook and Whatsapp.
Dentist's Day Messages 2023 Greeting Cards
1). On this dentist day brush off all your worries and brighten you day with a sweet smile. Happy dentist day to all.
2). Our relationship as a doctor and a patient is strange, the less I meet, the happier I am. Happy Dentist day
3). Wish you a happy and a smiley day. Happy Dentist day
4). Isn't it surprising that we have to pay from our pocket to get our tooth pulled. Happy Dentist day 2023.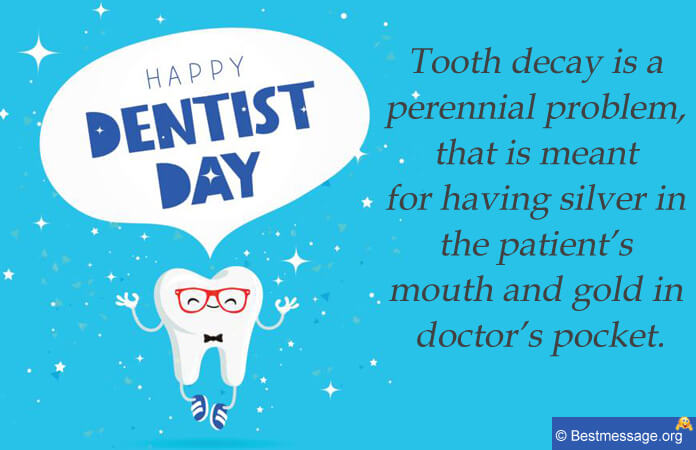 5). Tooth decay is a perennial problem, that is meant for having silver in the patient's mouth and gold in doctor's pocket. Happy Dentist day.
Happy Dentist's Day Wishes
6). Thanks for putting back the smile on my face and removing the pain. Happy Dentist day
7). A dentist is a person who puts metal in your mouth and pulls coin from our pocket. Happy dentist day
8). Bright smiles, sparkling teeth, happy hearts is what a dentist gives us. Happy Dentist day
9). A man with a tooth ache thinks that everyone is happy with a tooth sound, a dentist can make any one happy. Happy Dentist day
10). Thank you dear dentist for removing my pain and bringing a happy smile on my face. Happy dentist day.
Funny Dentist Quotes Sayings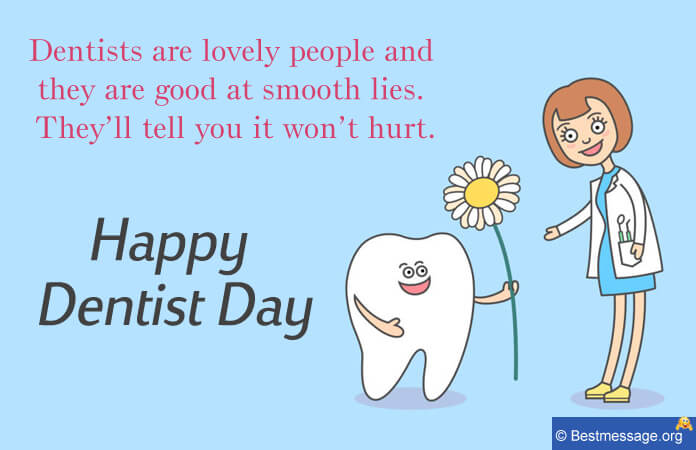 11). Thanks for being gentle with my tooth and removing the tooth ache, I can see a rapid improvement in my tooth. Happy Dentist Day
12). Every time my tooth aches, it seems as if life is really difficult and I could only think about a person, not even my girlfriend, that's you. Happy Dentist day
13). Dentists are lovely people and they are good at smooth lies. They'll tell you it won't hurt. Happy Dentist day
14). Dentists are the kindest and the ruthless set of people. Kindest because they want you to be well, ruthless because they use a hammer to remove bad tooth. Happy Dentist Day
15). Your gentle face makes me forget about the harsh tooth ache. Happy Dentist day
Happy Dentist's Day Slogans
16). When luck turns against you even a candy breaks your teeth.
17). It's better to get rid of an aching tooth than bearing it. To lose a rotting tooth is a gain.
18). Happiness is when your dentist pulls out your problematic tooth, and tells that it won't hurt.
19). Every tooth in a man's mouth in his old age is more valuable than a diamond
20). Today's generation have straight teeth and crooked morals.
Dentist Day Captions for Instagram
You are the reason for all our smiles.
Healthy and white teeth are possible only because of you.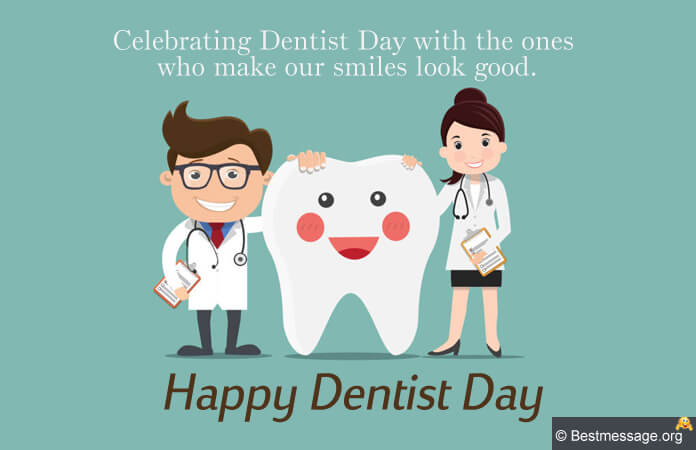 Celebrating Dentist Day with the ones who make our smiles look good.
Always take good care of your teeth.
Dentistry is not expensive if you care careful with your dental care.
Funny Dentist Captions for Instagram
Dentists have some difficult job to do.
Dentists are expensive as they clean difficult dirt.
Cheers to dentists who inhale all the bad breathe.
Dentists make every smile look good.
Don't compromise with dentist payments if you love your teeth.
Funny Dentist Day Jokes
The favourite time of the day for a dentist is "Tooth-hurty".
What will the dentist give you for $1? The answer is BUCK teeth.
A black hole is what the dentist calls an astronaut's cavity.
The best way to fix a broken tooth is using a tooth paste.
The reason a donut goes to a dentist is to get the filling done
This page was last modified on Thursday, February 16, 2023