We understand that you don't want a regular message to share with your loved ones this New Year. Therefore, we have the most unique Happy New Year wishes and messages drafted with innovation and warmth. These Happy New Year messages for 2020 are perfect New Year wishes for friends, funny New Year messages for loved ones in English and Hindi that beautifully express your feelings that are difficult to put up in words…
Use these most amazing Creative happy New Year messages to send to people you love and make them feel special on this day which is a new chapter in their life. A big list of Creative New Year wishes to share with friends, colleagues, and family members.
Creative Happy New Year Messages for Loved Ones
"A New Year inspires us to define our new goals
It motives us to make new commitments
It encourages us to live up to our promises
Wishing you a wonderful Happy New Year!!!"
"A change in attitude is more important than change in aptitude
Work to change your attitude and world will change for you
Warm New Year wishes to you."
"I have asked God to grant you with loads of money
To make it a happier New Year for you
Make sure you party hard!!"
"As we begin a fresh year….
Let us pray for more peace, more happiness and more smiles
With loads of love, wish you an amazing New Year."
"I wish more brightness and happiness
Less problems and darkness
For the coming year, for you and your family
Happy New Year to you!!"
"Let us not celebrate the end but the beginning
Of new hopes and future
Of happiness and glory
Happy New Year."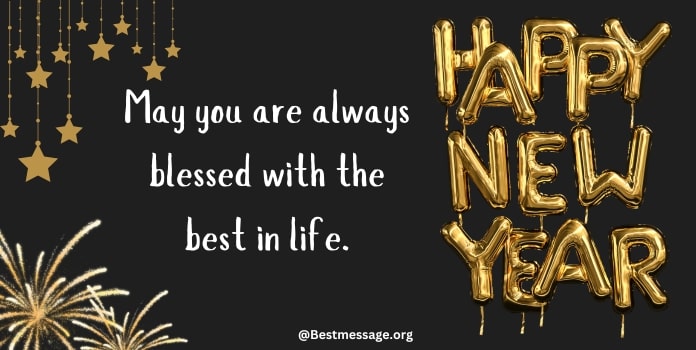 "With a hope for better future and happier tomorrow
Sending you warm greetings for New Year
May you are always blessed with the best in life!!"
"I wish a New Year with more harmony
Lots of new friends and new reasons to laugh
With that thought, wish you Happy New Year my dear"
"Thinking for New Year, sending warm wishes to you
With more hard work, more goals to chase
With more dedication, more commitments to make
May you are always successful with an unmatched pace"
"Naya hai din, nayi hai raat
Nayi hai umang, nayi hai har baat
Naya saal lekar aaye naveen rang aur khushiyon ki barsat
Mubarak ho aapko ye saal aur ye shuruaat"
New Year Quotes for Loved Ones in Heaven
"Warm wishes on New Year to you. Your absence on this day hurts me the most because without you, no New Year can be the same."
"On the occasion of New Year, I am sending my warm greetings to you. Though you are not there but I know my wishes will find you somewhere amongst the stars."
This page was last modified on Friday, December 20, 2019Save